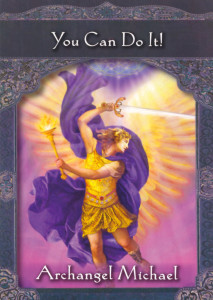 Thank you all for attending the class on Archangels! I hope you enjoyed the meditation to your crystal temple and being surrounded by angels.
Please share with me your angel stories and the signs you have received that the angels are near you! You can e-mail me at: jessica@wellnessthroughwisdom.com.
I am not going to go into all the introductory information I shared, but rather just give you the overview of the 7 archangels that I spoke about so you can begin to call upon them in your daily lives.
I will be offering this class again in the new year, as well as a Part 2 class that will cover even more of the angels.
Angel blessings & many white feathers ~ Jessica
ARCHANGEL MICHAEL
Protection ~ will keep you and loved ones safe
Safety during transportation ~ ask him to keep you safe in your car or during travel
Keeps us safe from corruption or lower vibrational energies
Courage and bravery
often invoked or associated with police officers and others in roles of protection
Halo color: Blue (a royal peacock blue and also turquoise) and sometimes Purple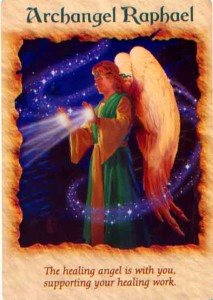 ARCHANGEL RAPHAEL
Healing ~ body, mind, and Spirit
"God's Physician"
Helps us when seeking a soul mate (romantic, in business partnership, friendship, etc.)
Halo color: Green
ARCHANGEL CHAMUEL
"The eyes of God"
Observes from a high vantage point
Help us shift our perspective/perceptions
Will help us find lost items, return missing belongings so we can be at peace
Love and peace
"Some people consider Chamuel to be the patron angel of people who gone through relationship trauma (such as divorce), people who are working for world peace, and those who are searching for items they've lost." – Whitney Hopler
Halo color: pink (It is often written about as pink, but I usually see a goldenrod yellow, sometimes mixed with pink)
ARCHANGEL GABRIEL
Babies and birth
Parenting
Communication ~ keeping a journal, poetry, writing a book, expression
Creative arts especially music
Halo color: copper gold and white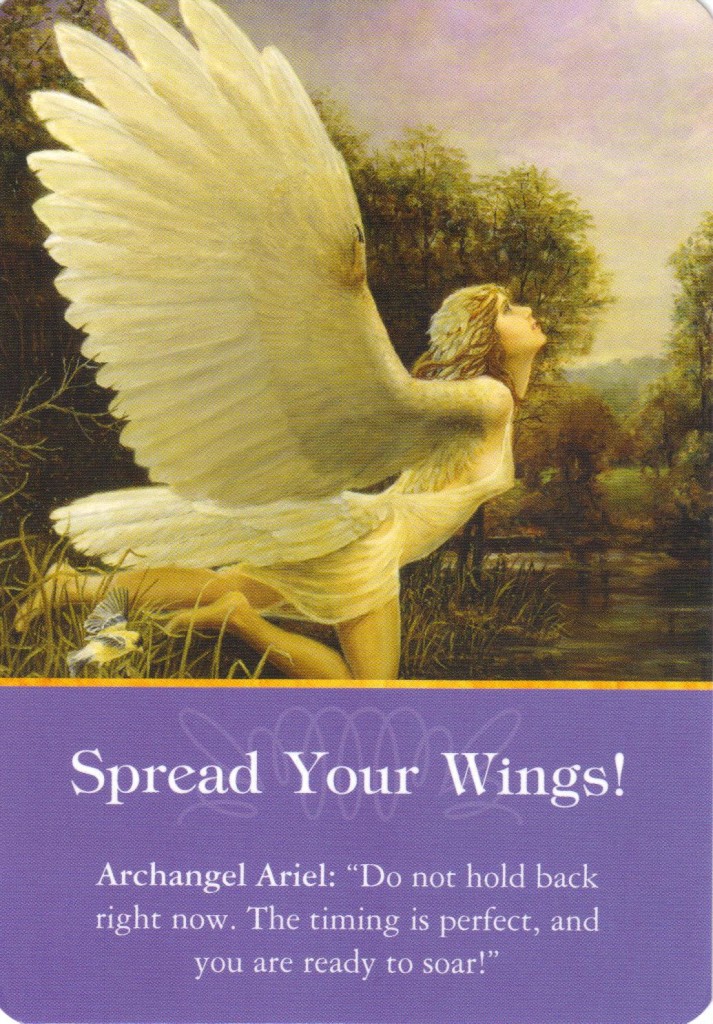 ARCHANGEL ARIEL
Nature and the environment
Helps us be more eco-friendly and in work that saves the Earth or animals
Protects animals
Provides for our survival needs ~ money, food, shelter
Courage ~ known as "the Lioness of God"
Pale pink or rainbow
ARCHANGEL AZRAEL
Help us in times of loss and grief
Helps dying people make the transition
Helps us let go of people or situations
Healing the heart from loss
Connection to those who have crossed over (left the physical body)
Azrael means "helper of God."
Halo color: pale yellow
ARCHANGEL JOPHIEL
Beauty ~ "the beauty of God"
Helps us shift our thoughts to beautiful ones
Helps us with self-image ~ finding the right clothes and look
Will help with making your home beautiful
Scent of roses
Helps you see the positive
"People sometimes ask for Jophiel's help to: discover more about the beauty of God's holiness, see themselves as God sees them and recognize how valuable they are, seek creative inspiration, overcome the ugliness of addictions and unhealthy thought patterns, absorb information and study for tests, solve problems, and discover more of God's joy in their lives." – Whitney Hopler
Halo color: yellow
ANGEL NUMBERS
Here is an excerpt from the book "Angel Numbers" by Doreen Virtue & Lynette Brown (this is just a taste – you have to read the book for more!). Doreen Virtue is also the creator of many angel card decks – her cards are featured here, above.

111 – Monitor your thoughts carefully, and be sure to only think about what you want, not what you don't want. The sequence is a sign that there is a gate of opportunity opening up, and your thoughts are manifesting into form at record speeds. The 111 is like the bright light of a flash bulb. It means that the universe has just taken a snapshot of your thoughts and is manifesting them into form. Are you pleased with what thoughts the universe has captured? If not, correct your thoughts…ask your angels to help you with this if you have difficulty controlling or monitoring your thoughts.
123 — Simplify your life. Get rid of anything that's pulling at your energy, time, or finances—especially anything that pulls you away from your life purpose. The ascended masters are helping you with this simplification.
222 — Have faith. Everything's going to be all right. Don't worry about anything, as this situation is resolving itself beautifully for everyone involved.
333 — The Ascended Masters are near you, desiring you to know that you have their help, love and companionship. Call upon the Ascended Masters often, especially when you see the number 3 patterns around you. Some of the more famous Ascended Masters include: Jesus, Moses, Mary, Quan Yin and Yogananda.
444 — Thousands of angels surround you at this moment, loving and supporting you. You have a very strong and clear connection with the angelic realm, and are an Earth angel yourself. You have nothing to fear—all is well.
555 — Buckle your seatbelts. A major life change is upon you. This change should not be viewed as being "positive" or "negative" since all change is but a natural part of life's flow. Perhaps this change is an answer to your prayers, so continuing seeing and feeling yourself to be at peace.
666 — Your thoughts are out of balance right now, focused too much on the material world. This number sequence asks you to balance your thoughts between Heaven and Earth. Like the famous, "Sermon on the Mount" the angels ask you to focus on spirit and service, and know your material and emotional needs will be met as a result.
777 — The angels applaud you… "congratulations, you're on a roll! Keep up the good work and know your wish is coming true." This is an extremely positive sign and you should also expect more miracles to occur.
888 — A phase of your life is about to end, and this is a sign to give you forewarning to prepare. This number sequence may mean you are winding up an emotional career or relationship phase. It also means there is light at the end of the tunnel. In addition it means, The crops are ripe. Don't wait to pick and enjoy them. In other words, don't procrastinate in making your move or enjoying the fruits of your labor.
875 — The changes you're making have put you on the right path for manifesting abundance in all ways.
999 — Get to work, Lightworker! The world needs your Divine life purpose right now. Fully embark upon your sacred mission without delay or hesitation.
000 — A reminder you are one with God, and to feel the presence of your Creator's love within you. Also it is a sign that a situation has gone full circle.
CLICK ON THIS CHART TO HAVE IT APPEAR MORE CLEARLY AND LARGER: